Welcome to Dinghy Dick's Marine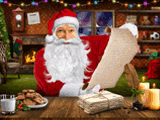 As Santa checks his list of who has been Naughty and who has been Nice
We want to take a minute and say "Thank You" to all our customers and friends for your business over the last 20 years.
We wish you and your families a Merry Christmas and a Happy New Year.
We will be closed from December 24th through January 1st. We will reopen on January 2.
(Hope you are on the Nice List)
Two of our Vendors have great offers for our customers -
Mercury Marine has announced a repower your boat campaign and
they have financing available for up to 144 months on new engine purchases.
So if you have been thinking about replacing your current motor now
is the time to do it
.......and.....
Voyager Pontoons will spruce up your old pontoon (any make or model) with new seats, carpet, railing -
what ever your pontoon needs to give it that updated look!
If your interested in either one of these - please give us a call at
575-487-2340.
We are here Tuesday - Saturday 8-4.
We will be placing our Fall order for NEW 2015 Pontoon Boats!
If you are interested in ordering one with just the features you want - come by and visit with us.
Can't believe it's been 20 years
since we started Dinghy Dick's!
We have met some of the nicest people
in those years and just
want to say THANK YOU for your business!
We couldn't have done it without you.
Need your boat winterized? Give us a call or email us at
This e-mail address is being protected from spambots. You need JavaScript enabled to view it
and let us get you on the schedule. Fall is a great
time to do your oil change so your ready for the
lake when the weather starts to warm up.
Let us Detail your boat before you put it away for the winter -
We can Wash & Wax the outside, Detail the inside, Shampoo the carpet - what ever you want.
Call for a quote
We still have 1 new 2014 Silver Wave Pontoon in stock
220 Island CL with a Mercury 115 ELPT Four Stroke
FINANCING AVAILABLE!
We can get you prequalified for your boat purchase
up to 180 months (wac)
We are now open Wednesday through Monday
Operating hours will be from 8-4
Come by and see the Metal Art Work on sale from
Songbird Studios
These make excellent gifts for that person that has everything!
We have several used boats for sale - check out the Boats for Sale Page
Located in Logan, New Mexico, we are proud to offer the following:
Pontoon Boats

Fishing Boats

A full line of boating accessories including:

Ducky Water Spot Remover, Quik Clean, All Purpose and Mighty Tidy

Life Jackets

Large selection of tubes

Ski Flags

Oars

Mercury 2 Cyle and 4 Stroke Oil - we have both in Synthetic as well as regular TCW 3

Quick Silver PWC Oil

Mercury Tilt and Trim Fluid

Mercury Power Steering Fluid

Sta-Bil Gas Treatment for Ethanol

Gear

Lube

Oil Filters

Water Separating Filters

Gel Jet Ski Batteries

Cranking and Deep Cycle Batteries

Battery Boxes

Bimini Top Hardware

Boat Letters and Numbers

Spark Plugs

Replacement Hub Kits

New Props - let us send your old prop off and have it rebuilt for a spare

Blue Rhino Propane Exchange - we no longer have Blue Rhino because they chose not to deliver -

Watch for

Pinnacle Express

to replace Blue Rhino in the coming weeks!
WE SERVICE WHAT WE SELL & WE ARE HERE AFTER THE SALE
We Accept Visa, Mastercard and Discover
Dinghy Dick's Boat & RV Storage
We have outside storage available
* * * * * * * *
The 15th Annual Chuck Wagon Cook will be here before you know it. Mark your calendars for
April 25th.
The Winner of the Kenneth Wyatt Print was Susan Laramore
Visit the Website at http://www.canadianriverrenegades.com
* * * * * * * * * * *
Updated 8/29/2014